The new year is here! And if the month of January is an indication of things to come… 2014 will be awesome! Here are a few reasons [and by reasons, I mean TV shows… duh] to get excited about the first month of this new year:
SHERLOCK
Can you tell I am excited about this? How long has Sherlock been off the air? Two years now? It feels like forever! I am just glad the third season is finally here, which is quite impressive, if you take into account how much Benedict and Martin's movie careers have taken off. But even with everything going on, Sherlock is back from the dead and I am sure it will be amazing! I love that the stars remain humble and recognize the value of this wonderful show! Martin Freeman stated that Sherlock had more of an impact on his life than The Hobbit (Radio Times, 2014). Furthermore, both Steven Moffat and Benedict Cumberbatch have stated that they will continue making the show as long as they let them (Ausiello, 2014). And with such a strong worldwide fan-base, they may very well "let them" make the show forever! No objections there!
COMMUNITY
Returns:
January 2nd 8PM (NBC)
Now that 30 Rock is off the air and the destiny of Arrested Development is unclear, I think it is safe to say Community is my favourite comedy on TV. I love the crazy quirkiness of this show and I also have a soft spot for it because it was always "the little show that could". With all its weirdness, Community was constantly on the verge of cancellation. NBC went as far as taking it off the schedule. But no! The show survived and we are about to start season 5! They better renew it for a 6th season and we will have SIX SEASONS AND A MOVIE! What seemed impossible at the time is almost a reality! Things like this make me think that not everything is lost for broadcast TV. In addition, this season marks the return of original show-runner Dan Harmon and if the trailers alone are any indication, the season will be AMAZING! And let's not forget about the list of guest stars for the season including: Walton Goggins (Justified, Sons of Anarchy), Nathan Fillion (Castle) and Jonathan Banks (Breaking Bad).
JUSTIFIED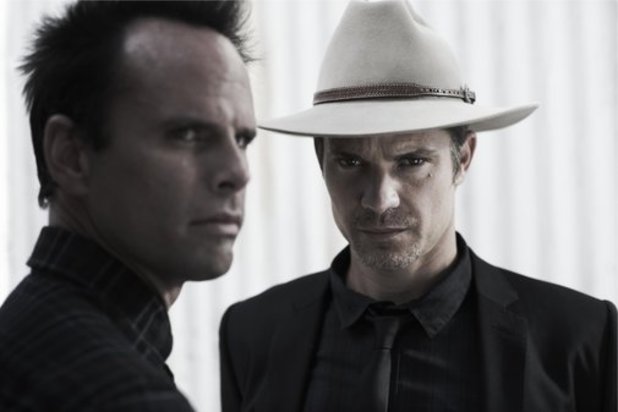 Returns:
January 7th 10PM (FX)
I confess, after a nearly perfect season 2 of Justified, I found season 3 to be a little lacklustre. So… I wasn't as excited about season 4 as I should have been. Fortunately, I was quickly proven wrong and was reminded of all the reasons I love to watch Marshal Raylan Givens chasing [or occasionally fraternizing with] bad guys. Justified is truly an incredible show. Based on a short-story written by Elmore Leonard, who has inspired a plethora of classic films (Out of Sight, Get Shorty, Jackie Brown, etc); the show has an old-school feel with a very old-school leading character and Timothy Olyphant plays the hell out of that role. To top all that, Boyd Crowder, played by Walton Goggins, might be one of the best supporting characters in TV history. And let's face it, no matter how many times it happens… Raylan quick drawing his gun and "justifiably" shooting someone will NEVER get old! I am ready for more!
BANSHEE
Returns:
January 10th 10 PM (CINEMAX)
Community, Justified
and Sherlock are on EVERYONE's best returning shows lists; however not many people are mentioning the return of Banshee. I said this before and I'll say it again: NOT ENOUGH PEOPLE ARE TALKING ABOUT THIS SHOW! Don't get me wrong, the show is getting its share of attention and it already has a cult-following, but this show is SO GOOD, I think it deserves the level of attention shows like Dexter, Game of Thrones and True Blood got when they first started. This is it, people. This is the new "crazy-shocking-jaw dropping" show to obsess about. With a name like Alan Ball (True Blood, Six Feet Under, American Beauty) attached, you know you can expect craziness and quality. The show is truly THAT great and I can't encourage you enough to check it out. It is the one returning winter show I am most excited about by far!
RETURN OF FAVORITE SHOWS
New Girl, Beauty and the Beast, Revenge
For American viewers, January also marks the return of Downton Abbey (Jan 5th on PBS) and fall shows come back from their painful hiatus!
Here is a list of some favorite Fall shows coming back in January:
Parenthood
(Jan 2nd 10PM on NCB)
The Good Wife
(Jan 5th 9PM on CBS)
Revenge
(Jan 5th 9PM on ABC)
Castle
(Jan 6th 10PM on ABC)
New Girl
(Jan 7th 9PM on FOX)
Bones
(Jan 10th 8PM on FOX)
Beauty and the Beast
(Jan 13th 9 PM on CW)
The Black List
(Jan 13th 10PM on NBC)
Supernatural
(Jan 14th 9PM on CW)
Nashville
(Jan 15th 10PM on ABC)
The Vampire Diaries
(Jan 23rd 8PM on CW)

A couple of other favorite shows also have season premieres in January: Psych and The Following, so don't forget to check those out as well! So… what do you think? 2014 is looking up or what?
SOURCES