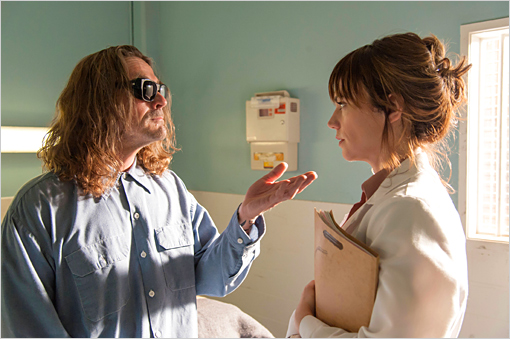 Kurt Sutter and Maggie Siff as Otto Delaney and Tara Knowles
I was writing a post about memorable guest roles on TV and I realized that I could do an entire article just about SOA. The biker show doesn't only have one of the best casts on TV (every single member of the club is perfectly cast) but they also have a history of getting amazing guest stars. So, in honor of the season finale this Tuesday let's remember some of the most unexpected and amazing guest stars that have graced Charming with their presence.
Titus Welliver
Fresh out of being smokey-the-smoke-monster on Lost Titus came over to Sons of Anarchy to play Irish mobster Jimmy O'Phelan. Maybe it was a lot about the timing, but Titus was the embodiment of evil in my mind. So it was great to see him as the antagonist of the MC.
Joel McHale
I love unexpected casting. Seeing the star of a sitcom (Community) play a role on a drama about bikers was priceless! I am guessing it had to do a lot with Kurt Sutter and Katey Sagal doing an episode of The Soup. Somehow I can see Joel and Kurt Sutter being friends.
David Hasselhoff
What do you do after a failed singing career, playing a guy with a magic car and a lifeguard, and being a judge on a mediocre talent show? If you are David Hasselhoff you go on to play a porn producer/former porn star on SOA. I gotta say David was great; his character was ridiculous enough without fully being a joke and it is probably the best thing he has done with his career in a really long time.
Ashley Tisdale
Ashley Tisdale is a hooker… No, I am not starting a blog-hate campaign on the teen High School Musical star. Seriously, she played a high class hooker this season on SOA. She didn't do any racy scenes or anything so she can still cling to her good girl status I guess. I neither hated her nor loved her. I am just curious on how that casting idea came to place.
Kurt Sutter
The creator, writer, executive producer and Mr. Katey Sagal himself has guest-starred a bunch of times on his own show as Otto Delaney. And let me say that you have to have balls to write a character like that for yourself! Otto has literally been to everything! He has been beaten, blinded, abused and beaten again on a number of occasions. I just love seeing Sutter fit in so well in the world he created.
Walton Goggins
BEST GUEST STAR IN THE HISTORY OF TELEVISION. Period. Walton Goggins as Venus Van Dam was unexpected, shocking and absolutely awesome. It took me around 5 seconds to realize it was him and when I did I was screaming like a teenager on a Bieber concert. I loved Venus even more after reading an interview with Goggins in which he talks about the character without joking at all. He really approached it like he would approach Boyd Crowder. For him Venus was a deep character with feelings and motivations and I absolutely LOVE IT! You don't expect to see one of TV's most notorious bad-asses in drag and taking part in a black-mail/porn photo shoot. It was priceless and hands down the best guest role in SOA.