All you need to know about Beauty and the Beast in 5 min or less - The catch up guide for new viewers
If you haven't figured it out already, I LOVE television! And I am constantly recommending TV shows to my friends and family, however, it is hard to get someone into a show when it is in the middle of the season or starting a 2nd or 3rd series. Hence, I've decided to start a new series of posts: 'No Previous Knowledge' designed to briefly explain shows so new viewers can catch up.
You might be a Sendhil Ramamurthy/Heroes/Covert affairs fan that wants to see him in his new promising role but don't know what Beauty and the Beast is about, or perhaps you dismissed the show at the beginning because it didn't look appealing but you are hearing so much buzz and good comments that you want to give it a try or maybe you are just looking for a new 'guilty pleasure' to fill your nights. If any or all of the above apply, read this guide to quickly understand what is going on and be ready for the new episodes!
SPOILER ALERT:
This guide contains spoilers up to Episode 14: Tough Love
What do you need to know?
Vincent
Vincent
Vincent was an E.R doctor working in NYC when he lost his two brothers at the towers in 9/11. Distraught, he joined the army where he agreed to participate on an experiment to create enhanced soldiers conducted by a shady organization called Muirfield. Of course, the experiment went wrong and Muirfield killed all the participating soldiers. Vincent managed to escape and returned to NY, but he has been forced to live in hiding ever since. For the past 10 years, his only human connection has been his best friend J.T. Forbes, a biochemistry college professor. The experiment enhanced Vincent's strength and senses, but it also causes him to have occasional 'episodes'. Most of the time he just looks like his gorgeous self (with a scar on his face, which is rather sexy BTW), but when he goes through his 'episodes' he takes a slightly animalistic form, hence the 'beast'. In a number of occasions, he saved people around the city, with the unfortunate consequence of leaving his mutated DNA behind. This situation has put him on the police's radar as a mysterious 'vigilante'. And let's not forget the folks at Muirfield are still after him.
VINCENT CHEAT SHEET: Doctor, ex-soldier, part-time beast, accidental hero, hunted by the police & Muirfield, hot
JT CHEAT SHEET: Vincent's best friend and roommate, regular consumer of tums, masterful one-liner deliverer
Catherine
Catherine
Without the knowledge of her family, Catherine's mother was one of the Muirfield scientists that created the super soldiers. However, she did not approve of the massacre after the experiment failed. Therefore, Muirfield sent assassins after her. When Catherine was in college she witnessed her mother's murder but she escaped death herself thanks to Vincent. For almost ten years she never learnt the identity of her savior or whether he was human or not. Instead of becoming a lawyer, Catherine ends up becoming an NYPD cop (yeah, I know that's a stretch, but just go with it OK?). During one of her investigations, she comes across Vincent and figures out he was the man that saved her all those years ago. He proceeds to save her life again … and again… and again… well… you get the picture. She commits to keep his secret and he starts helping her out with her investigations as a way of doing something worthy with his life and feel like he is human again or something along those lines. Naturally, she eventually falls in love with him because… well he is dreamy, and vulnerable, intelligent and heroic (her words, not mine) and he is hot, did I mention he is hot? Well, you can never stress that enough
CATHERINE CHEAT SHEET: NYPD detective, tortured past, juggling way too many secrets
Tess and Evan
Evan
Also in the mix are Tess (Cat's NYPD partner) and Evan (The police's medical examiner). Evan is your classic handsome British player, but he seems to have real feelings for Catherine. However, the love triangle is the least of their problems. Turns out, Evan is on the trail of the vigilante (Vincent) and he is quite a bit obsessed about finding him or 'it'. Evan is starting to suspect that Catherine knows more than she is telling him AND he just started to work with Muirfield unaware that they are… you know, evil.
Tess was the cool best girl-friend/trusty partner, but due to Catherine's secretive behavior, mysterious hidden boyfriend and the fact that she caught her destroying evidence (for Vincent's benefit), Tess is starting to have serious trust issues with her partner.
Tess
EVAN CHEAT SHEET: M.E., thinks he has a shot with Cat, sexy accent, involved with the wrong crowd
TESS CHEAT SHEET: Cat's NYPD partner, having an affair with her married boss
So that is the general story so far which brings us to:
Heather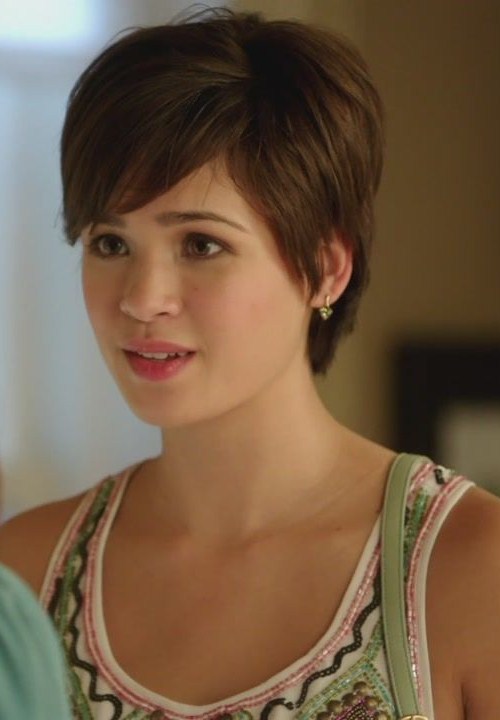 Heather
Heather is Catherine's little sister and of no major consequence so far, however she was the catalyst of a series of unfortunate events. Remember, so far, the only people Vincent interacted with were JT and Catherine. But after Heather catches Vincent and Catherine in the middle of their first kiss she insists on meeting her sister's boyfriend which forces Vincent to re-introduce himself to society. At the same time Heather gets involved with Darius, the brother of Police Chief, Joe (who is having an affair with Tess BTW). Turns out Darius owed a lot of money to the wrong people, and when I say 'wrong people' I mean a bunch of murderous thugs. The wrong people track down Darius when he was on a date with Heather and put him in the uncomfortable situation of choosing between his life and Heather's. Darius seems pretty fond of himself, so he makes up his mind rather quickly. When he is about to kill Heather Vincent saves her life but unintentionally kills Darius in the process. Of course, killing the brother of the Police Chief is not a good thing for anyone, and much less for a man who lives in hiding and has a very dark secret. A man-hunt (or rather a 'beast-hunt') is about to begin and it will be led by new character Gabe Lowen, played by the wonderful Sendhil Ramamurthy.
JT
So that's where we are right now: Vincent hates himself for what he is, Catherine loves Vincent, Evan loves Catherine, Tess is suspicious, Heather is clueless and JT is probably having a heart-attack (and being awesome at the same time).
The last few episodes promise to be full of twists, turns and awesome moments. It is not too late to get into this show that has turned out to be the ultimate guilty pleasure (emphasis on pleasure). Don't let first impressions fool you, at this point, the show has found its tone and the story-lines are in full force. Incredibly addictive and above many other shows currently on the schedule, anyone who watches could tell you that.
Was this guide helpful? Want to request a 'no previous knowledge' guide for another show? Leave a comment and let me know!
April 13th Update
This guide explains the plot as of Episode 14
Tough Love.
You can watch episodes 15-17 (Any Means possible, Insatiable, Partners in crime) online on
Hulu
or the
CW website
and be ready for the show's return on April 18th! Watch the trailer for episode 18
HERE
.