It is time for another post about famous actors on hit TV shows and their more humble beginnings. Previously we saw where some of the popular
Young Actors
started out. This time around we take a look at the Brits that are currently well known on both sides of the Atlantic.
Where is he now? Dr. Owen Hunt, Grey's Anatomy
Where did we see him before? He played the centurion Lucius Vorenus on Rome. He had an English accent back then. I still wish his character on Grey's would be Scottish (hey, Grey's Anatomy doesn't always make sense) and we would get to hear his actual accent.
Where is he now? He plays Sergeant Nicholas Brody on Homeland. He just won an Emmy for that role.
Where did we see him before? I am sure he was in a bunch of Masterpiece classics I don't recall but if we are talking about American TV, he played a quirky detective on the short-lived Life along with Sarah Sahi (more on her later).
Where is he now? Sherlock in the American version Elementary
Where did we see him before? Most recently he was the baddie on Dexter, but he was on American TV before as the lawyer who hallucinates George Michael on Eli Stone.
Where is he now? He plays the chauffer turned journalist turned state administrator Tom Branson on Downton Abbey
Where did we see him before?
He was Agrippa in
Rome
and he also played the Queen's
(Tamzin Merchant)
former lover on
The Tudors
. Let's see… Julius Caesar niece, the Queen of England and a Noble Lady… He always seems to fall for the wrong girl.
Where is he now?
Jax Teller, the President of the Motorcycle club on
Sons of Anarchy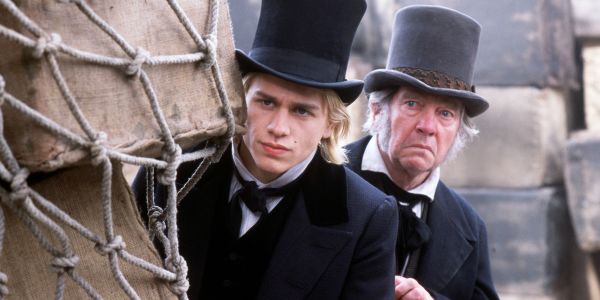 Where did we see him before?
First of all, did you know he was British? It would be hard to tell from watching him on SOA. I found out because I saw him in a Dickens adaptation movie and I thought he had an awful British accent, then I found out he was actually English… so I guess I should say he has a great American accent. Anyway, before being a complete bad-ass biker he was playing a gay teenager on
Queer as Folk.
Full of surprises, this one.
Where did we see him before? I only realized this because I rewatched Dowton Abbey's season 1 like 5 times. He was footman Thomas' gay lover in the first episode! Quite the shocker, I must say.