Regular TV season is over and while we stress out about the cliffhangers of our favorite shows it is time for some Summer TV! After looking at all the new and returning summer shows… seems like my TV schedule will be almost as packed as in the fall!
Here is a list of the returning shows I'll be watching this summer. I'll come back to comment on the new shows, but for now let's stick with the oldies.
Breaking Bad (Final half of the 5th season)
Returns: August 11th [yeah I know NOT SOON ENOUGH!] on AMC
This is probably the most anticipated TV event of the year. Only 8 more episodes to go to which will conclude one of the best shows in TV history. I can hardly wait to witness Walter's downfall and Hank dealing with the realization that he had Heisenberg under his nose all along. The last few episodes are bound to be shocking, explosive and probably give us a couple of heart attacks… As long as they don't kill Jesse everything is good… I cannot even put into words how excited I am for this!
Arrested Development (4th long awaited season)


Returns:
May 26th on Netflix [14 episodes will be released on that day]
The return of
Arrested Development
is major for many reasons! First, it is coming back 7 years after its cancellation. Second, it is the first broadcast show brought back to life online (let's hope it starts a trend) and finally it is AWESOME. I was scared of this revival, thinking it may not live to the expectations, but after watching the very funny trailer I am reassured and I am thrilled! I suck at binge watching (I still haven't finished
House of Cards)
but I will do my best to consume the new
Arrested Development
episodes as the internet intended it: in one sitting. So ready to blue myself!
Dexter (8th and final season)
Returns: June 30thon Showtime
Another show saying farewell this season and I am sure it will do it in great fashion! Dexter hit a rough patch back in S6 but I think they redeemed themselves with a superb S7 which had one of the most shocking finales. SPOILER ALERT Debra, not only found out about her brother being a serial killer, but she ended up killing Laguerta to protect him. Talk about sisterly love! The implications of that action will be explored during the final season and I am sure it will be amazing! As much as I love this show, I am glad it is ending; that way they won't drag the plot more than necessary. It has been a great run with our favorite serial killer and I am anxiously awaiting his final kills.
Suits (3rd season)
Returns: July 16th on USA
USA is the summer network for sure. It has a lot of interesting, light, feel good shows and if you had to pick one network to watch over the summer this should be it. Depending on your taste you might be waiting for Covert Affairs, Royal Pains, Graceland or Necessary Roughness (which I don't watch but I will this year because of David Anders). However my favorite USA show is Suits. It is also my favorite lawyer show of all times. It is new, it is fun, it is smart, it has movie quotes and geeky references and it has a great cast! Last season finale didn't have car explosions or unexpected deaths but it had a very meaningful revelation [and a shocking reaction] when SPOILER ALERT Mike told Rachel he never went to Harvard and then had sex with her in the archive room. After that ending I am excited to see what is in store this season! If you never watched the show jump in, it has a procedural element so you will catch up quickly and it is worth every minute.
Returns: June 16th on HBO
True Blood has taken the word 'crazy' to a whole new level. Crazy doesn't even begin to describe it! This ludicrous show has had its up and downs over the course of the years. I personally loved last season with all the vampire politics and religion. It might be too insane for some people, but I can't help to love it! I have a blast when I watch this show no matter how ridiculous it gets so I am still in. I might be a sucker for vampire stories, who knows… but I am watching it this summer!

The Killing (3rd season)
Returns: June 2nd on AMC
Another resurrected show. They didn't need to bring it back on Netflix because the network (AMC) itself 'uncancelled' it. A lot of critics give
The Killing
bad reviews;
calling it preposterous, boring and not as good as
Top of the Lake (
which was awesome but different in my opinion). I actually really like
The Killing.
I thought perhaps it lost its way during S2, but after watching it on Netflix I can say the show remained true to itself. So we know who killed Rosie Larsen now, but we had a long hiatus to forget about that and come back to the new season with an open mind. I adore Joel Kinnaman, I don't dislike Mireille Enos and I like how this show is different from all the other American cop shows [probably because it is a remake of a Danish show]. I just hope it doesn't suffer the fate of
Twin Peaks
and finds the way to transition into a new mystery smoothly (like
Veronica Mars
did).
Returns: July 22

nd

on The CW

You may notice this is the only reality show on the list, or pretty much the only reality show I have ever mentioned. Summer TV has a lot of reality shows, which I hate in general (including and especially the singing competitions!); but this one I enjoy watching. I actually pitched this type of show on a production class. I couldn't figure out why nobody thought of documenting the backstabbing stressful world of classical ballet. Well, finally someone did! As a former ballet dancer I KNOW there can be a lot of drama and I wasn't even a professional dancer! What I like about this show, besides the dance numbers, is that the characters are dealing with issues other than teen pregnancy! There are other sources of drama in life and finally reality TV producers saw that. I would still take a scripted show over any reality show any day, but I'll be watching Breaking Pointe this summer.

Burn Notice (7th and last season)
Returns: June 6th on USA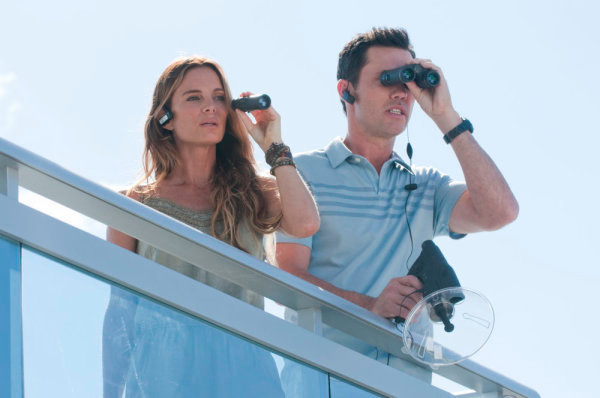 Besides
Suits, Burn Notice
is the other USA show I don't miss. As I have said many times before, since
Alias
no other spy show has lived up to my expectations; however, I don't think
Burn Notice
needs to because it is so different and original. It is a new take on a much told story. It is not my obsession or anything but I really like the light hearted tone, kick-ass females, witty dialogue and stunning action sequences. It is pure fun to watch and we will be saying good bye to it soon, so let's enjoy it while it lasts.
Returns: July 14th on HBO
Critics sure hate this show! And although I get why, I don't necessarily agree. So, it is a little preposterous and unrealistic at times, so what? I can use some wishful writing in my life. I don't watch the show thinking how accurate the 'news reporting' is. I like it because it has funny characters (and no, I actually don't find Maggie or MacKenzie annoying) and it has all of Sorkin's signatures I love: neurotic characters, quick dialogue and people speaking while walking really fast. I think we shouldn't over think it and people should stop complaining about it not being the greatest and most profound political statement in the world. It is a TV show! It is a fun TV show that explores some issues, maybe not to everyone's satisfaction, but let's enjoys it for what it is!

Rookie Blue (4th season I can't believe it lasted this long!)
Returns: May 23rd on ABC
This
Grey's Anatomy-
esque little show about rookie cops is one of the things I look forward the most every summer. It does not have the quality or depth of the other shows mentioned on this list but I find myself enjoying all the episodes. I can't say it is ground breaking and it definitely verges on 'guilty pleasure' territory but I think it is worth watching. The characters are compelling, they have a lot of funny moments (some sweet and dramatic moments as well) and for some reason it feels like something we haven't seen a million times already.